Maximise the Efficiency of Your Sales Team

Contact Us!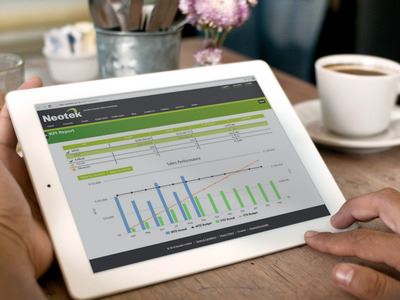 Sales managers should consider sales force automation to meet one or more of the following:
Increased Sales – Cut out time consuming paperwork by automating the order taking process. This gives your sales people more time to make additional sales calls each day.
Increased Order Value – Empower your sales people to up-sell. Increase the value of each order with real time specials, new product releases, end of line offers and promotions.
Increased Order to Visit Ratio – Ensure your sales people have all the information they need in real time to answer any questions and close an order on every visit.
Reduced Staff Numbers – Automating order processing reduces the need for customer service staff to manually enter orders.
Greater Visibility – Receive call reports immediately after the visit is complete, allowing you to track the progress of your team and respond to customer issues as they arise.
Neotek Sales Force Automation

Benefits
In the modern sales environment, handwriting orders and sending them by fax is incredibly unproductive. It makes as much sense as returning to the office in between visits just to use the telephone when mobile phones are commonplace.
Put the latest product and customer data into the hands of your sales team and allow them to take even complex orders on the spot. The orders are processed immediately and accurately without any extra data entry by customer services. Talk to us about the direct financial gains made by our clients using Sales Force Automation.
The user interface has been specifically designed for non technical personnel runs on any Windows-compatible device including PDAs or tablet PCs.
Features
Present a comprehensive catalogue with rich product information and images on any sized screen
Offer customer specific pricing and inventory information
Highlight promotions and new product releases
Automatically submit customer orders for processing
Check customer orders in progress and back orders
Review customer sales history and the likely value of the next order
Take a complex order at the speed at which someone speaks
Review customer credit status
Check on customer sales vs. budget
Pull up customer invoices and statements
Enter call notes and sales report updates
Future-proof your business. Neotek Sales Force Automation can be extended to include an online ordering/eCommerce module, a public website and print and CD catalogues, all powered from a single source.
Make
Appointments
Follow Up
Leads


Manage
Customers


A day in the Life of a Salesperson

Start your day

Switch on your tablet, notebook, PDA or web browser log-in

Check your calendar for the day's calls

See how your sales compare to your targets and set your goals

Stay in the loop with notices and alerts from head office

Before each call

Get a pre-visit report for every customer

See all previous orders and their status

See the customer's credit account status

Know the ranged goods or predicted orders

Review notes from previous visits

The sales call

Answer any question with a full, up-to-date product catalogue with

pictures
pricing and product specs
inventory levels
lead and shipping times
Increase the order value with

customer-specific promotions
new product releases
up and cross sells
Place orders instantly and accurately

repeat standing orders with a click
orders flow directly into the back office system

After the visit

Head office process the order without delay or having to type it in again

Fill in a call sheet quickly while the visit is fresh in your mind

Book a follow up call or appointment

Fit extra customer visits into your day

Meanwhile, at the office

Get accurate daily call reports

Track sales people's visits in real time

See which promotions are working

Track key customers

Update the product catalogue once, and have updates sent to the entire sales team


Our Modules
Public Website Module


Take advantage of rich content created within your business-to-business eCommerce system by making it available on your public web site. You choose how much and what information is to be accessible on the public site for all customers. This module can be added once either eCommerce or Sales Force Automation is in place.

Select this module so that visitors to your public site see up to date information on:

New product releases
Retail pricing
Sales outlets
Special promotions
Print Catalogue Module
Take the pain out of producing print catalogues. You can add this module once either eCommerce or Sales Force Automation is in place. By applying the rich content already held in Neotek Enterprise, the complete files for a new printed catalogue are only a few steps away. Output files in the correct format to easily produce print catalogues for customers. There is no time consuming pagination or expense of buying special publishing software.
CD catalogue Module

Like the Print Catalogue module, this component allows you to publish existing content to a new catalogue, this time on CD. You can add this module once either eCommerce or Sales Force Automation is in place. Output files in the correct format to easily produce CD catalogues for customers. There is no time consuming layout or expense of buying special publishing software.
Took 0 milliseconds
Contact Us
Address:

45 Arrenway Drive, Rosedale, Auckland 0632, New Zealand

Phone:

+64 9 915 6655

Email: info@neotek.co.nz